Desert's Edge accepts Daily, Weekly, and Monthly reservations. Our regular rates include up to four (4) people and two (2) pets.
Each site rental also includes a concrete patio, picnic table, water, sewer, electricity, and Tax. No cable TV, however, local channels are available with antenna.
An extra charge will be added for additional people and additional pets. We reserve the right to limit the number of people and pets in any RV.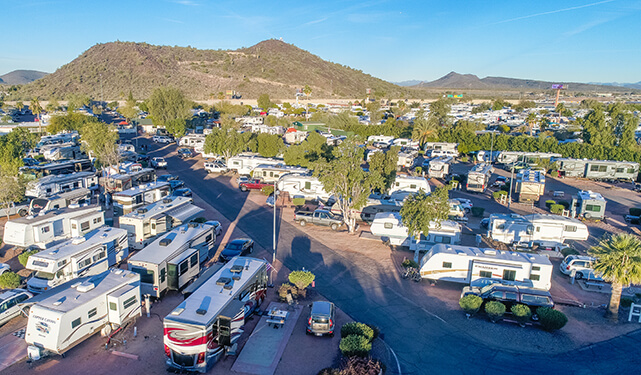 The RV Sites at Desert's Edge RV Village are classified by size and location. Generally, the Economy sites accommodate smaller rigs and one vehicle. Some of the Basic and Classic sites also include small storage sheds. The Premium and Premium Deluxe sites generously accommodate big rigs and two vehicles.
Daily & Weekly RV Site Rates
Pull-through RV sites are located among all daily/weekly sites, have fewer shrubs, and no trees. You must drive forward to park on site, but can leave tow vehicle attached.
Back-in RV sites are located among the monthly sites, have more shrubs, trees, and parking. You must back the RV into your site and must disconnect your RV from tow vehicle.
Monthly RV Site Rates
Storage Sheds: Available on some sites for an additional $25 per month. Talk with office staff to reserve a site
For monthly stays, we screen RVs that are older than 10 years. We reserve the right to refuse any RV if it is not in acceptable condition
We offer a Good Sam discount of 10% off on daily rates.
Special event rates will vary, please call for more info.
---
Cancellations
Cancellation of Monthly Reservations:
Notify the park within 30 days or more before arrival: $35 charge
Notify the park within 14 to 29 days before arrival: $100 charge
Notify the park in less than 14 days before arrival: No Refund
Cancellation of Daily or Weekly Reservations:
10% of deposit 15 days prior to arrival date
25% of deposit 14 days to 48 hours prior to arrival date
No refund less then 48 hours prior to arrive date
Special Events
Rates are subject to change during special events in the area.
You must pay in advance for your full stay when booking reservations.
There will be no refund for early departure.
Social events apply to daily weekly and monthly reservations